Description
<p><span style="font-family: &quot;Times New Roman&quot;; font-size: 24px; color: rgb(255, 0, 0);"><b style="">Features:</b></span><br style="color: rgb(51, 51, 51);"><span style="color: rgb(51, 51, 51); font-family: &quot;Times New Roman&quot;; font-size: 24px;">Brand New &amp; High quality.</span><br style="color: rgb(51, 51, 51);"><span style="font-family: &quot;Times New Roman&quot;; font-size: 24px;"><span style="color: rgb(51, 51, 51);">an configuration quadcopter with integrated</span><span style="color: rgb(255, 0, 0); background-color: rgb(255, 255, 0);"> 1080p video camera</span></span><span style="font-family: &quot;Times New Roman&quot;; font-size: 24px; color: rgb(255, 0, 0); background-color: rgb(255, 255, 0);">&nbsp;</span><br style="color: rgb(51, 51, 51);"><span style="font-family: &quot;Times New Roman&quot;; font-size: 24px;"><span style="color: rgb(51, 51, 51);">Included</span><span style="color: rgb(255, 0, 0); background-color: rgb(255, 255, 0);"> 4.3" FPV transmitter</span><span style="color: rgb(51, 51, 51);"> (radio controller).</span></span><span style="color: rgb(51, 51, 51); font-family: &quot;Times New Roman&quot;; font-size: 24px;">&nbsp;</span><br style="color: rgb(51, 51, 51);"><span style="color: rgb(51, 51, 51);"><span style="font-family: &quot;Times New Roman&quot;; font-size: 24px;">The flight controller has integrated GPS, enabling advanced autonomous features, such as Follow Me and Automatic Return.</span><span style="font-family: &quot;Times New Roman&quot;; font-size: 24px;">&nbsp;</span></span><br style="color: rgb(51, 51, 51);"><span style="color: rgb(255, 0, 0); background-color: rgb(255, 255, 0);"><span style="font-family: &quot;Times New Roman&quot;; font-size: 24px;">It is powered by four brushless motors with self-tightening propellers.</span><span style="font-family: &quot;Times New Roman&quot;; font-size: 24px;">&nbsp;</span></span><br style="color: rgb(51, 51, 51);"><span style="color: rgb(51, 51, 51); font-family: &quot;Times New Roman&quot;; font-size: 24px;">The bundle coIes ready-to-fly, only requiring four AA batteries for the transmitter to get started.</span><br style="color: rgb(51, 51, 51);"><br style="color: rgb(51, 51, 51);"><span style="color: rgb(51, 51, 51); font-family: &quot;Times New Roman&quot;; font-size: 24px;">GPB-Based Navigation System</span><br style="color: rgb(51, 51, 51);"><span style="color: rgb(51, 51, 51); font-family: &quot;Times New Roman&quot;; font-size: 24px;">Headless Orientation Control Mode</span><br style="color: rgb(51, 51, 51);"><span style="color: rgb(51, 51, 51); font-family: &quot;Times New Roman&quot;; font-size: 24px;">FPV Transmitter with 4.3" Display</span><br style="color: rgb(51, 51, 51);"><span style="color: rgb(51, 51, 51); font-family: &quot;Times New Roman&quot;; font-size: 24px;">Automatic Return Home Failsafe</span><br style="color: rgb(51, 51, 51);"><span style="color: rgb(51, 51, 51); font-family: &quot;Times New Roman&quot;; font-size: 24px;">Follow Me Function</span><br style="color: rgb(51, 51, 51);"><span style="color: rgb(51, 51, 51); font-family: &quot;Times New Roman&quot;; font-size: 24px;">Altitude Mode</span><br style="color: rgb(51, 51, 51);"><span style="color: rgb(51, 51, 51); font-family: &quot;Times New Roman&quot;; font-size: 24px;">Brushless Motors</span><br style="color: rgb(51, 51, 51);"><span style="color: rgb(51, 51, 51); font-family: &quot;Times New Roman&quot;; font-size: 24px;">Self-Tightening Propellers</span><br style="color: rgb(51, 51, 51);"><span style="color: rgb(51, 51, 51); font-family: &quot;Times New Roman&quot;; font-size: 24px;">Flight Battery and Charger Included</span><br style="color: rgb(51, 51, 51);"><br style="color: rgb(51, 51, 51);"><span style="font-family: &quot;Times New Roman&quot;; font-size: 24px; font-weight: bold; color: rgb(255, 0, 0);">Specifications:</span><br style="color: rgb(51, 51, 51);"><span style="color: rgb(255, 0, 0); background-color: rgb(255, 255, 0);"><span style="font-family: &quot;Times New Roman&quot;; font-size: 24px;">Flying Time: Up to 20 Minutes</span><span style="font-family: &quot;Times New Roman&quot;; font-size: 24px;">&nbsp;</span></span><br style="color: rgb(51, 51, 51);"><span style="color: rgb(51, 51, 51); font-family: &quot;Times New Roman&quot;; font-size: 24px;">Color: white</span><br style="color: rgb(51, 51, 51);"><span style="color: rgb(255, 0, 0); background-color: rgb(255, 255, 0);"><span style="font-family: &quot;Times New Roman&quot;; font-size: 24px;">Wheelbase: 310mm/12.2 inch</span><br style=""><span style="font-family: &quot;Times New Roman&quot;; font-size: 24px;">Size: 250 x 255 x75mm/9.8 x 10 x 3 inch</span><br style=""><span style="font-family: &quot;Times New Roman&quot;; font-size: 24px;">Delivery size: 327 x 143 x 310mm/12.9 x 5.6 x 12.2 inch</span></span><br style="color: rgb(51, 51, 51);"><span style="color: rgb(51, 51, 51); font-family: &quot;Times New Roman&quot;; font-size: 24px;">Net weight: 1016g</span><br style="color: rgb(51, 51, 51);"><span style="color: rgb(51, 51, 51); font-family: &quot;Times New Roman&quot;; font-size: 24px;">Package weight: 1611g</span><br style="color: rgb(51, 51, 51);"><br style="color: rgb(51, 51, 51);"><span style="font-family: &quot;Times New Roman&quot;; font-size: 24px; font-weight: bold; color: rgb(255, 0, 0);">Package Included:</span><br style="color: rgb(51, 51, 51);"><span style="background-color: rgb(255, 255, 0); color: rgb(255, 0, 0);"><span style="font-family: &quot;Times New Roman&quot;; font-size: 24px;">1 x FPV Quadcopter</span><span style="font-family: &quot;Times New Roman&quot;; font-size: 24px;">&nbsp;</span><br style=""><span style="font-family: &quot;Times New Roman&quot;; font-size: 24px;">1 x FPV Transmitter with 4.3" Screen</span><br style=""><span style="font-family: &quot;Times New Roman&quot;; font-size: 24px;">4 x Propellers</span><br style=""><span style="font-family: &quot;Times New Roman&quot;; font-size: 24px;">1 x LiPo Flight Battery</span><br style=""><span style="font-family: &quot;Times New Roman&quot;; font-size: 24px;">1 x Flight Battery Charger</span><br style=""><span style="font-family: &quot;Times New Roman&quot;; font-size: 24px;">1 x AC Adapter for Charger</span><br style=""><span style="font-family: &quot;Times New Roman&quot;; font-size: 24px;">1 x Prop Wrench</span><br style=""><span style="font-family: &quot;Times New Roman&quot;; font-size: 24px;">1 x manual</span></span><br></p>
body,
div,
dl,
dt,
dd,
ul,
ol,
li,
h1,
h2,
h3,
h4,
h5,
h6,
pre,
form,
fieldset,
input,
textarea,
p,
blockquote,
th,
td {
margin: 0;
padding: 0;
box-sizing: border-box
}
table {
border-collapse: collapse;
border-spacing: 0
}
fieldset,
img {
border: 0
}
img {
font-size: 0;
display: block
}
address,
caption,
cite,
code,
dfn,
em,
strong,
th,
var {
font-style: normal;
font-weight: normal
}
ol,
ul {
list-style: none
}
caption,
th {
text-align: left
}
h1,
h2,
h3,
h4,
h5,
h6 {
font-size: 100%;
font-weight: normal
}
q:before,
q:after {
content: "
}
abbr,
acronym {
border: 0
}
html,
body {
background-color: #fff;
font-family: Arial, Helvetica, sans-serif;
font-size: 12px;
line-height: 18px;
color: #333
}
a {
text-decoration: none;
color: #333
}
a:hover {
color: #000
}
.mt30 {
margin-top: 30px
}
.mt20 {
margin-top: 20px
}
.mt10 {
margin-top: 10px
}
.pl40 {
padding-left: 40px
}
.w80p {
width: 80%
}
.clear::after {
display: block;
content: "";
clear: both
}
.title-bgcolor {
background-color: #F9FAFD;
}
.fscolor {
color:#333333;
}
.info {
overflow: hidden
}
.info > div >img {
display:block;
margin:0 auto;
margin-top: 10px;
max-width: 800px;
}
.thin-border {
border: 1px solid #eae9e9
}
.thin-border-bottom {
border-bottom: 1px solid #eae9e9
}
.img-wrap img {
display: block;
max-width: 100%;
}
.banner.img-wrap img {
width: 100%;
}
.main {
width: 1000px;
padding: 20px;
margin: 0 auto
}
.main strong {
font-weight: 700;
}
.main h1 {
font-size: 36px;
width: 80%;
line-height: 66px;
text-align: center;
margin: 0 auto;
margin-bottom: 10px;
}
#store {
display:none;
}
#wrapper {
display: inline-block;
padding-left: 270px;
position: relative;
vertical-align: bottom;
margin-top: 20px;
}
#sidebar {
float: left;
width: 270px;
margin-left: -270px;
position: relative
}
#main {
float: left;
min-width: 990px
}
#main,
#sidebar {
min-height: 200px;
height: auto !important;
height: 200px
}
.title {
height: 40px;
line-height: 40px;
text-align: center
}
.category ul {
padding: 10px 20px;
line-height: 30px
}
.c {
overflow: hidden
}
.l {
float: left;
width: 70px;
height: 70px
}
.r {
padding-left: 80px;
height: 70px
}
.recommend ul {
padding: 15px
}
.recommend ul li {
margin-bottom: 10px
}
.small-title {
font-size: 14px;
height: 35px;
line-height: 35px;
overflow: hidden;
white-space: nowrap;
text-overflow: ellipsis
}
.price {
height: 35px;
line-height: 35px;
font-size: 14px;
color: red
}
.table table {
table-layout: fixed;
font-size: 14px;
width: 100%;
padding: 16px;
line-height: 30px;
border-collapse: collapse
}
.table table td {
padding-left: 15px;
line-height: 54px;
height: 54px;
border: 1px solid#eae9e9
}
.table table tr td:first-child {
font-weight: 700
}
.table-title {
height: 40px;
line-height: 40px;
padding-left: 15px;
border-top: 1px solid#eae9e9;
border-left: 1px solid#eae9e9;
border-right: 1px solid#eae9e9
}
.description-content {
line-height: 24px;
word-wrap: break-word;
width: 800px;
margin: 0 auto;
margin-top:20px;
}
.policy-title-unfold {
text-align: left;
font-weight: 700;
font-size: 14px;
padding-left: 15px
}
.policy-content {
padding: 25px;
color: #999
}
.policy-content img {
width: 100%;
}
.policy-content table {
width: 100%;
padding: 16px;
line-height: 30px;
border-collapse: collapse
}
.policy-content table td {
padding: 0 10px;
border: 1px solid#eae9e9
}
.policy-toggle-tab {
font-weight: 700;
font-size: 14px
}
.policy-toggle-tab li {
border-right: 1px solid#eae9e9;
height: 40px;
line-height: 40px;
float: left;
padding: 0 15px;
cursor: pointer
}
.policy-toggle-tab li.active {
background-color: #fff;
position: relative
}
.policy-toggle-tab li.active::before {
content: "";
position: absolute;
width: 100%;
height: 2px;
background-color: #4d7bfe;
top: -1px;
left: 0
}
.policy-toggle-tab li.active::after {
content: "";
position: absolute;
width: 100%;
height: 2px;
background-color: #fff;
bottom: -1px;
left: 0
}
.policy.tab-content li {
display: none;
height: 0;
overflow: hidden
}
.policy.tab-content li.active {
display: block;
height: auto;
overflow: visible
}
.description-content {
line-height: 24px;
word-wrap: break-word;
width: 800px;
margin: 0 auto;
margin-top:20px;
}
.toggle-small-img {
width: 100%
}
.toggle-small-img li {
width: 150px;
float: left;
overflow: hidden;
padding-top: 20px;
padding-right: 20px;
cursor: pointer
}
.tabs {
clear: both;
width: 100%;
float: left;
list-style: none;
position: relative;
box-sizing: border-box;
margin-top: 27px;
margin-bottom: 3px
}
.tabs .tab-content {
color:#333333;
}
.tabs::before {
content: "";
position: absolute;
box-sizing: border-box;
width: 100%;
height: 40px;
top: 2px;
left: 0;
background-color: #F9FAFD;
border-top: 1px solid #eae9e9;
border-left: 1px solid #eae9e9;
border-right: 1px solid #eae9e9
}
.tabs input[type=radio] {
width: 0;
visibility: hidden;
display: none
}
.tabs label {
padding: 0 20px;
display: inline-block;
height: 40px;
line-height: 40px;
cursor: pointer;
position: relative;
z-index: 1
}
.tabs [id^="tab"]:checked+label {
background: #fff;
border-bottom: 0;
color: #1890ff;
font-size: 14px;
font-weight: 700;
position: relative;
z-index: 1;
top: 1px;
border-top: 2px solid #4d7bfe;
border-left: 1px solid #e0e0e0;
border-right: 1px solid #e0e0e0
}
#tab1:checked~#tab-content1,
#tab2:checked~#tab-content2,
#tab3:checked~#tab-content3,
#tab4:checked~#tab-content4,
#tab5:checked~#tab-content5 {
display: block
}
.tab-content {
display: none;
width: 100%;
float: left;
padding: 20px;
box-sizing: border-box;
background-color: #fff;
position: relative;
top: 0;
min-height: 200px;
margin-bottom: 0;
border: 1px solid #eae9e9
}
.tab-content img {
width: 100%;
}
.gallery-container {
background: #fff none repeat scroll 0 0;
height: auto;
width: 100%;
padding-bottom: 19px
}
.gallery {
position: relative;
margin-top: 20px;
margin-left: 4px
}
.thumbnails {
width: 660px;
margin-top: 15px;
margin: 0 auto;
}
.thumbnails li {
display: inline-block;
width: 92px;
margin-right: 15px;
height: 92px;
text-align: center;
cursor: pointer;
padding: 5px;
border: 1px solid #fff
}
.thumbnails .item-container {
position: relative;
margin: 0;
height: 100%
}
.thumbnails .thumb-image {
bottom: 0;
left: 0;
margin: auto;
max-height: 100%;
max-width: 100%;
position: absolute;
right: 0;
top: 0
}
.thumbnails .gallery-content {
position: absolute;
bottom: 110px;
left: 0;
top: 0;
width: 100%;
height: 600px;
display: none;
justify-content: center;
max-width: 100%
}
.item-wrapper {
height: 100%;
position: relative;
width: 100%
}
.thumbnails .gallery-content img {
left: 0;
bottom: 0;
margin: auto;
max-height: 100%;
max-width: 100%;
position: absolute;
right: 0;
top: 0
}
.thumbnails li:hover {
border: 1px solid #d5d5d5
}
.thumbnails li:hover .item-container {
position: relative
}
.thumbnails li:hover .item-container::before {
content: "";
position: absolute;
top: 0;
left: -26px;
width: 20px;
height: 100%;
background-color: #fff
}
.thumbnails li:hover .item-container::after {
content: "";
position: absolute;
top: 0;
right: -26px;
width: 20px;
height: 100%;
background-color: #fff
}
.thumbnails li.image1:hover .gallery-content#image1 {
display: block
}
.thumbnails li:hover~.defaultimg {
display: none
}
.white-box {
background: white;
width: 100%;
height: 600px;
max-width: 100%;
margin-left: 0
}
.defaultimg {
position: absolute;
top: 0;
left: 0;
width: 100%;
height: 600px;
}
.defaultimg img {
text-align: center;
display: inline-block;
left: 0;
bottom: 0;
margin: auto;
max-height: 100%;
max-width: 100%;
position: absolute;
right: 0;
top: 0;
}
Hubsan X4 H501S Quadcopter 1080P 5.8G FPV GPS Follow Me Brushless RTF Drone BT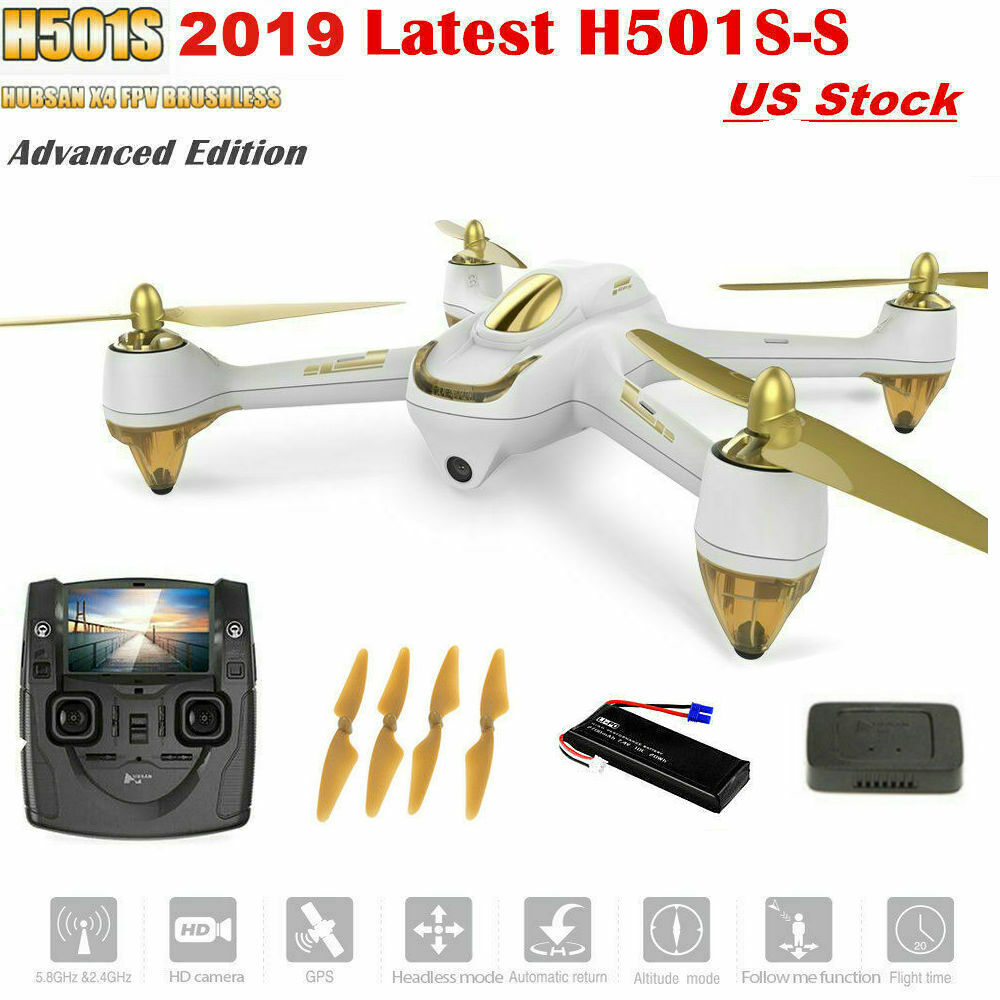 Features:
Brand New & High quality.
an configuration quadcopter with integrated 1080p video camera
Included 4.3″ FPV transmitter (radio controller).
The flight controller has integrated GPS, enabling advanced autonomous features, such as Follow Me and Automatic Return.
It is powered by four brushless motors with self-tightening propellers.
The bundle coIes ready-to-fly, only requiring four AA batteries for the transmitter to get started.
GPB-Based Navigation System
Headless Orientation Control Mode
FPV Transmitter with 4.3″ Display
Automatic Return Home Failsafe
Follow Me Function
Altitude Mode
Brushless Motors
Self-Tightening Propellers
Flight Battery and Charger Included
Specifications:
Flying Time: Up to 20 Minutes
Color: white
Wheelbase: 310mm/12.2 inch
Size: 250 x 255 x75mm/9.8 x 10 x 3 inch
Delivery size: 327 x 143 x 310mm/12.9 x 5.6 x 12.2 inch
Net weight: 1016g
Package weight: 1611g
Package Included:
1 x FPV Quadcopter
1 x FPV Transmitter with 4.3″ Screen
4 x Propellers
1 x LiPo Flight Battery
1 x Flight Battery Charger
1 x AC Adapter for Charger
1 x Prop Wrench
1 x manual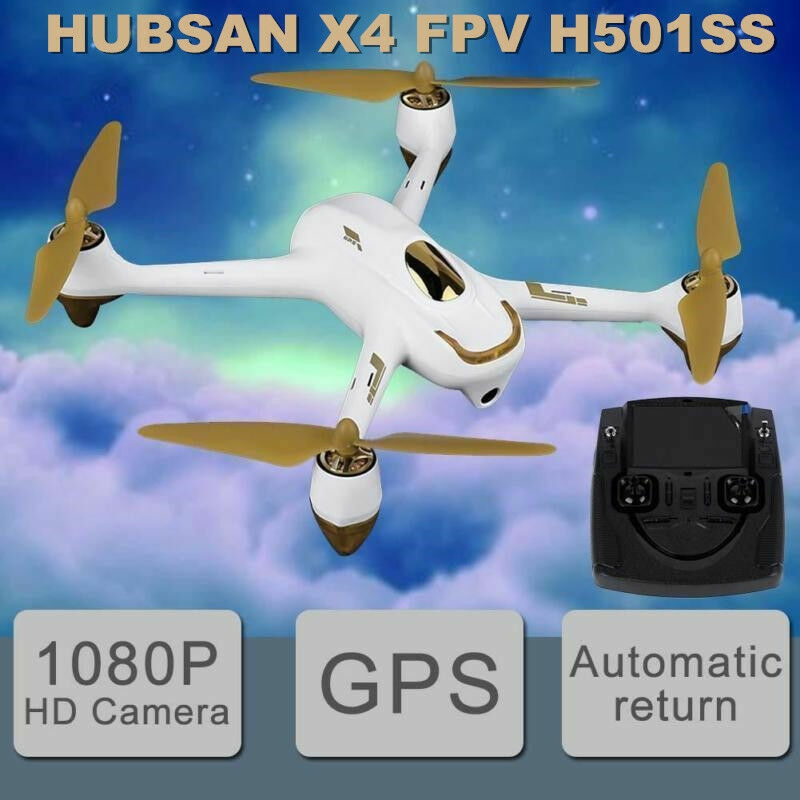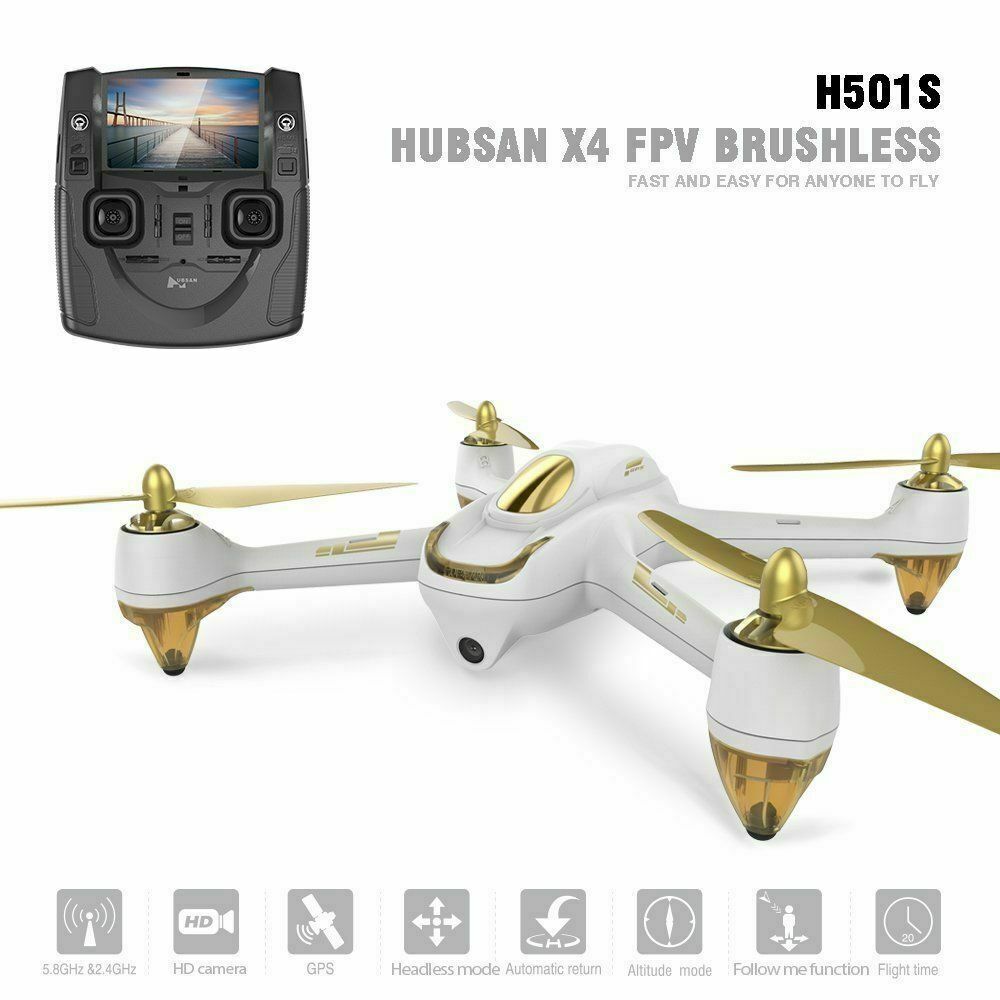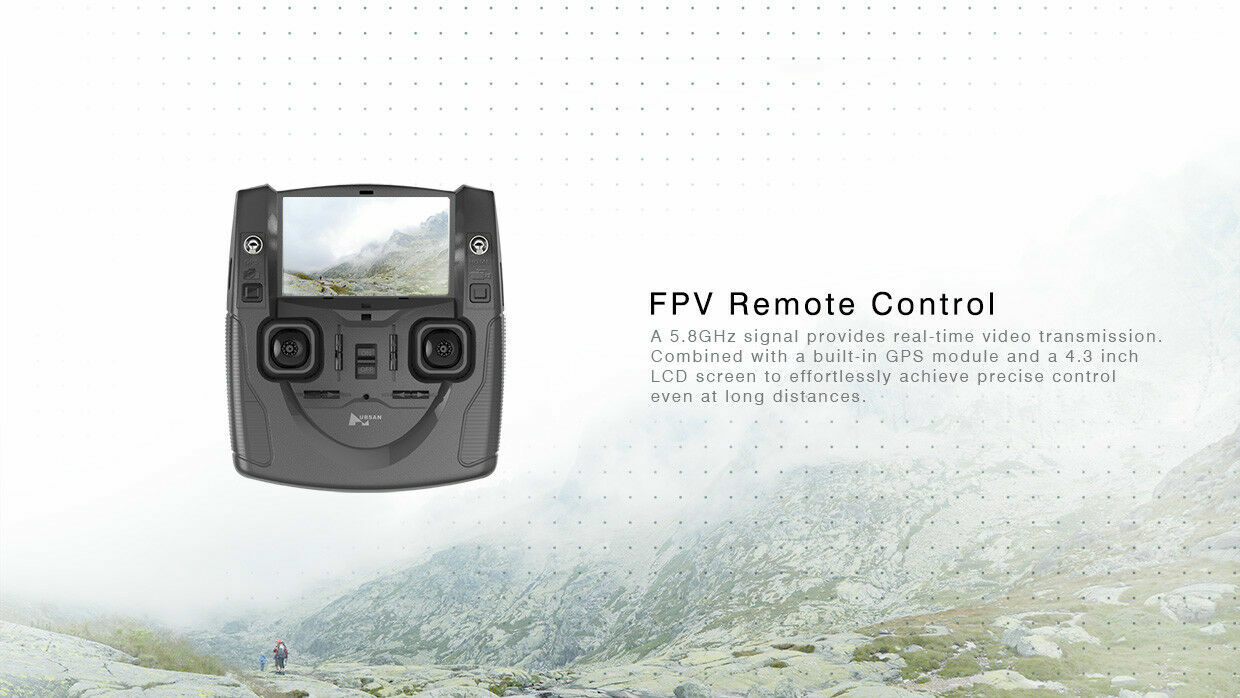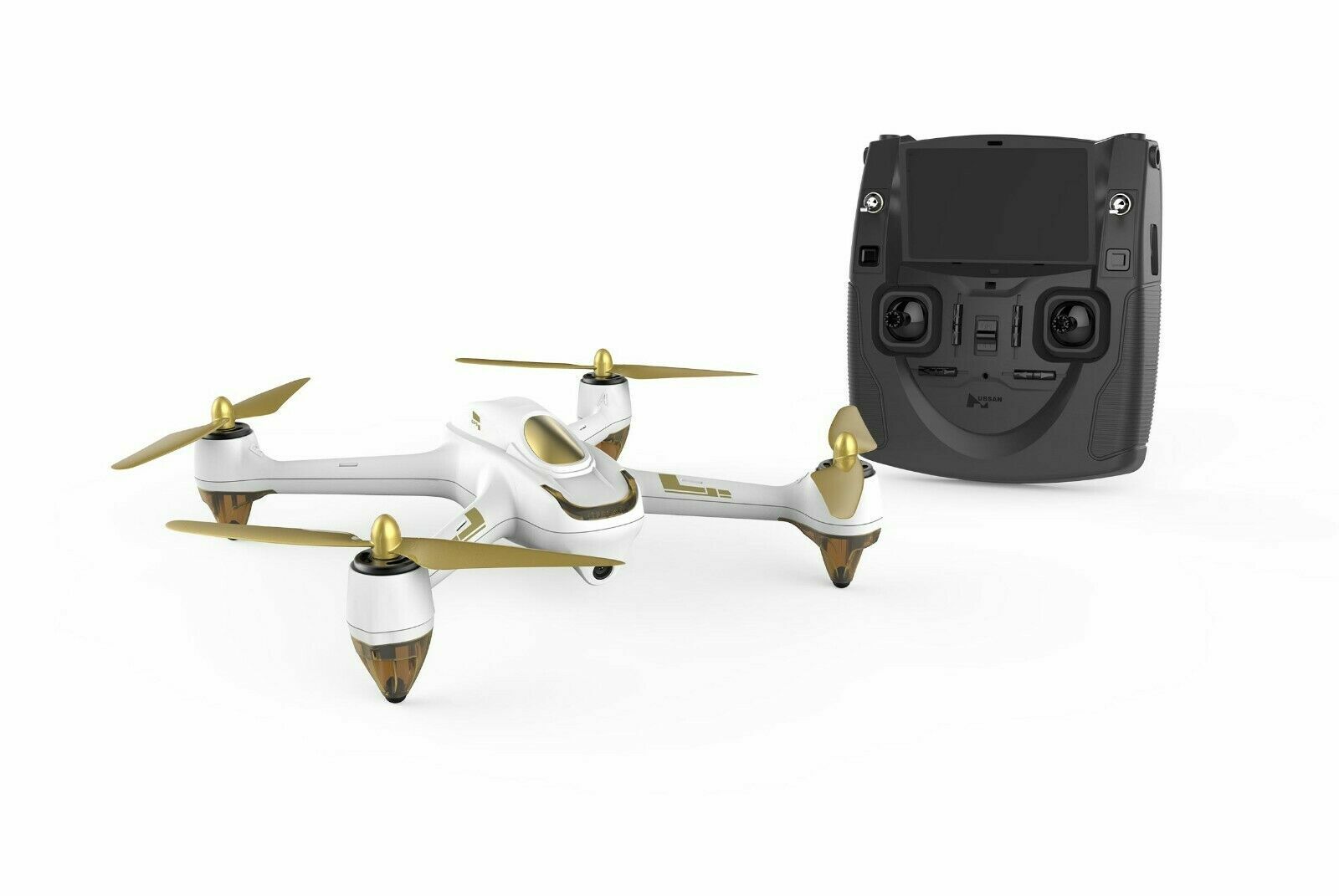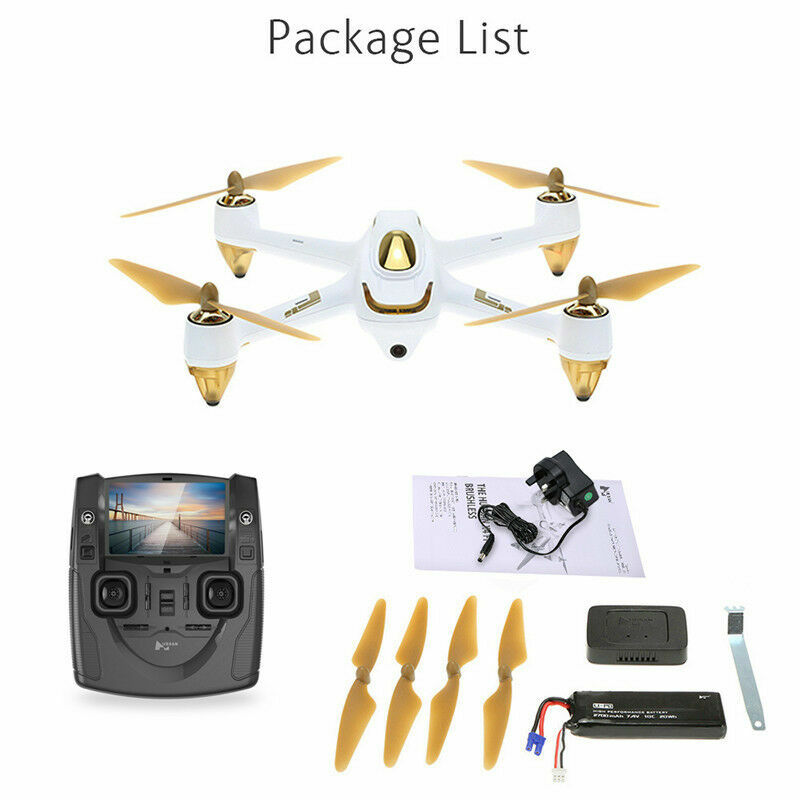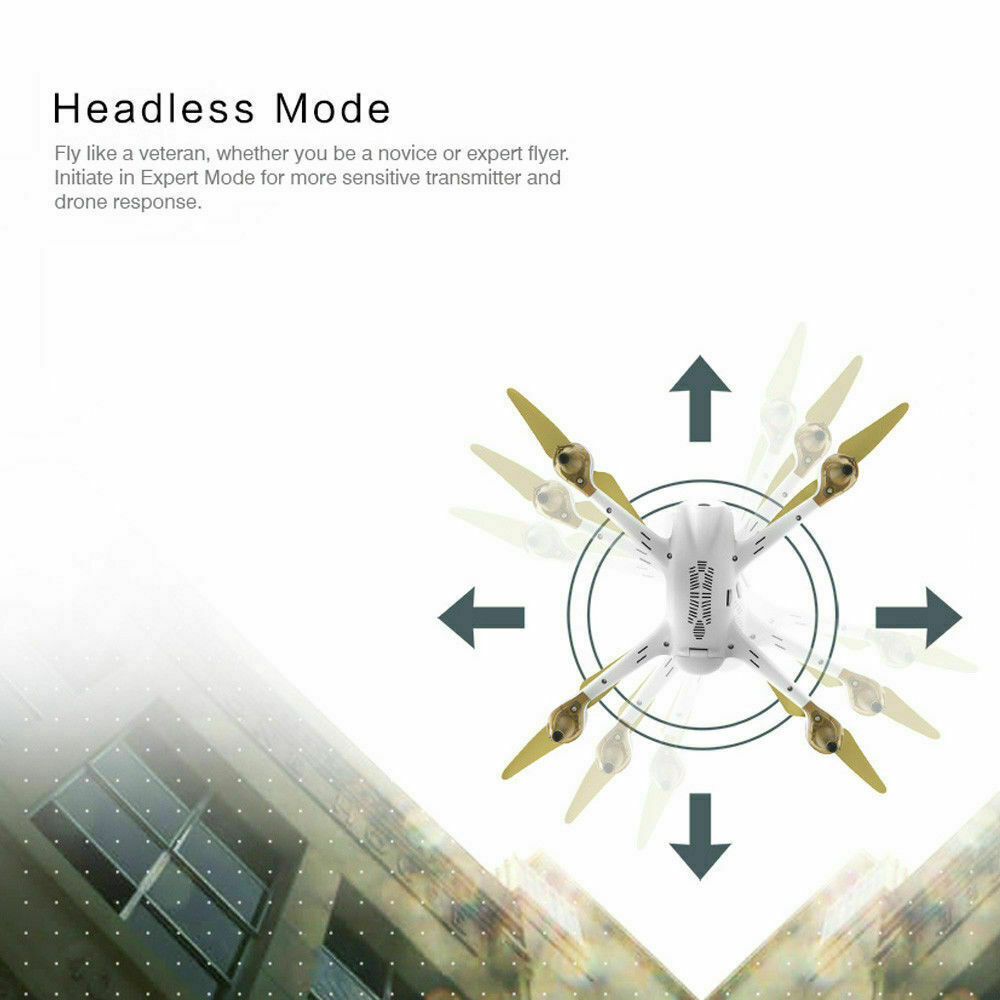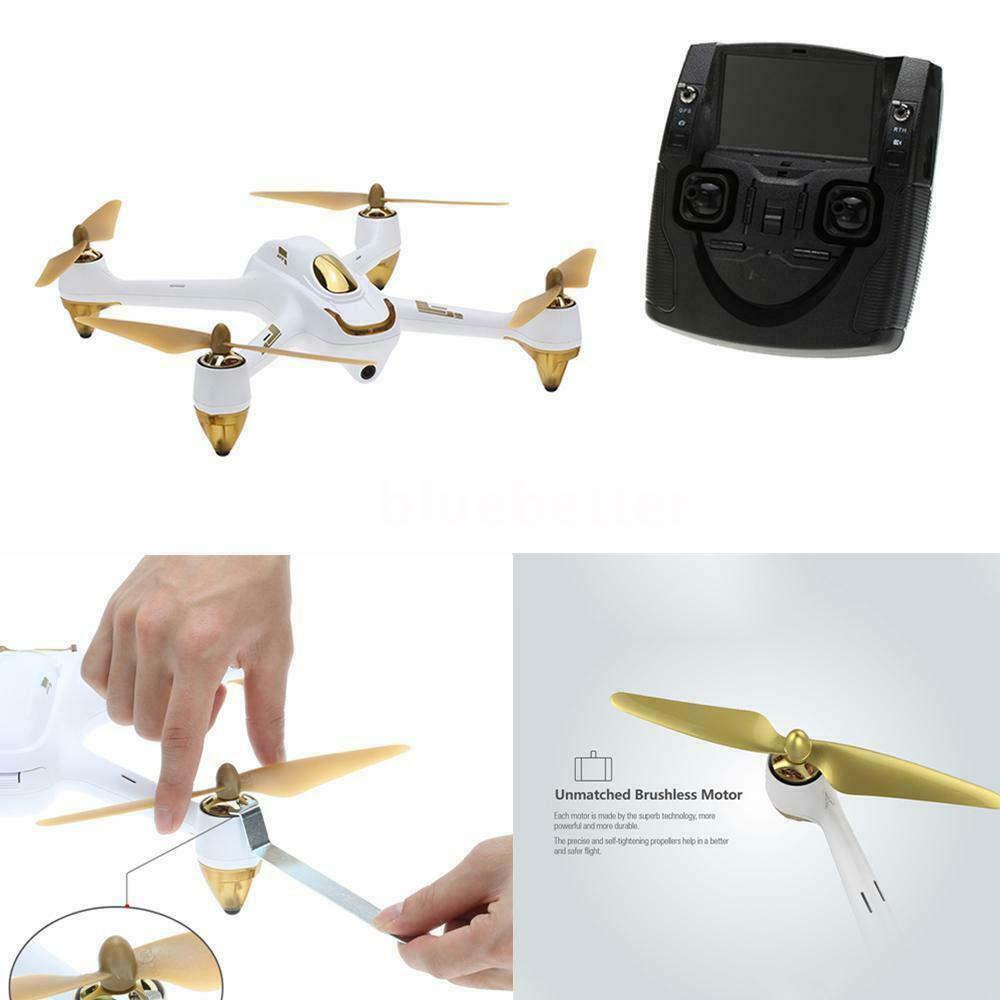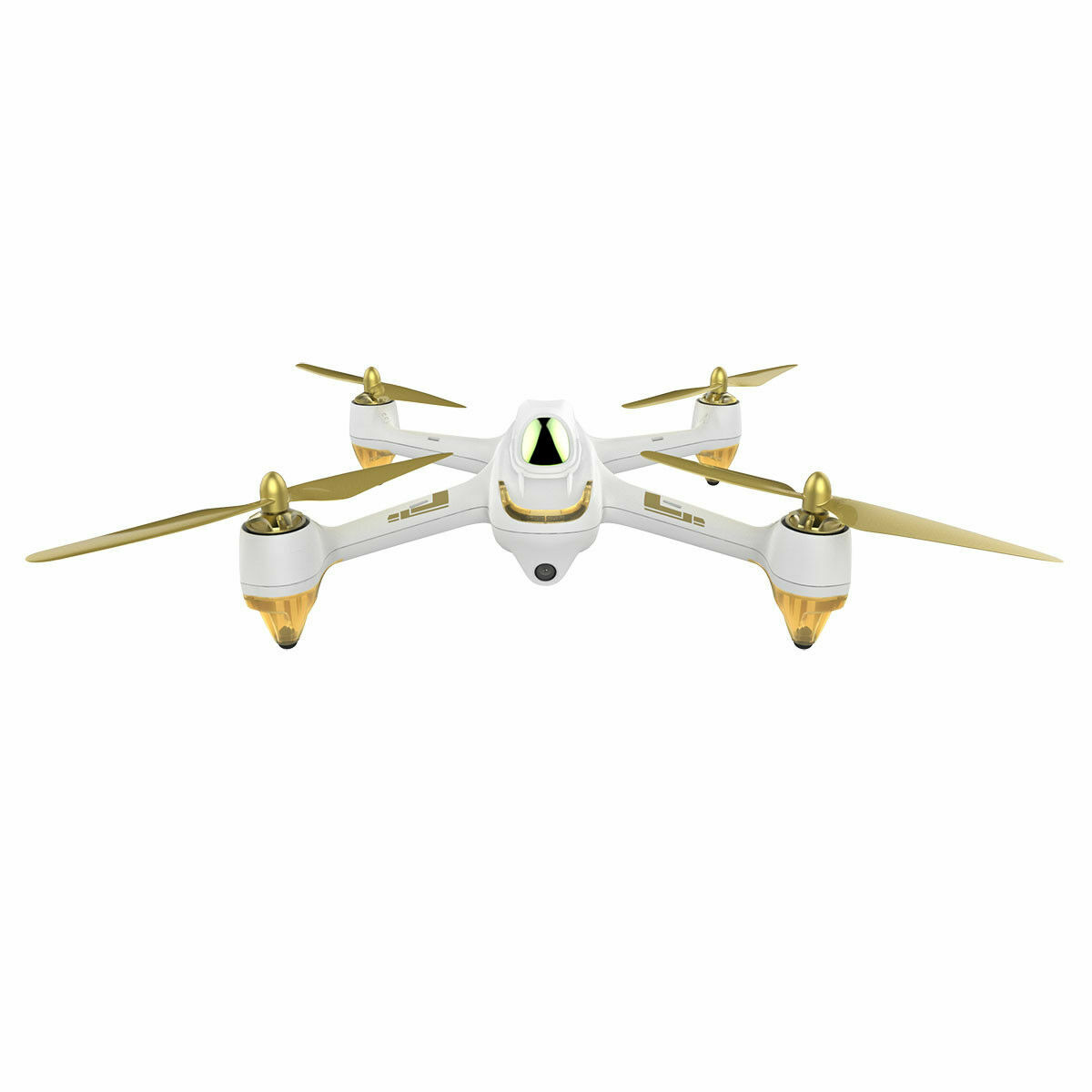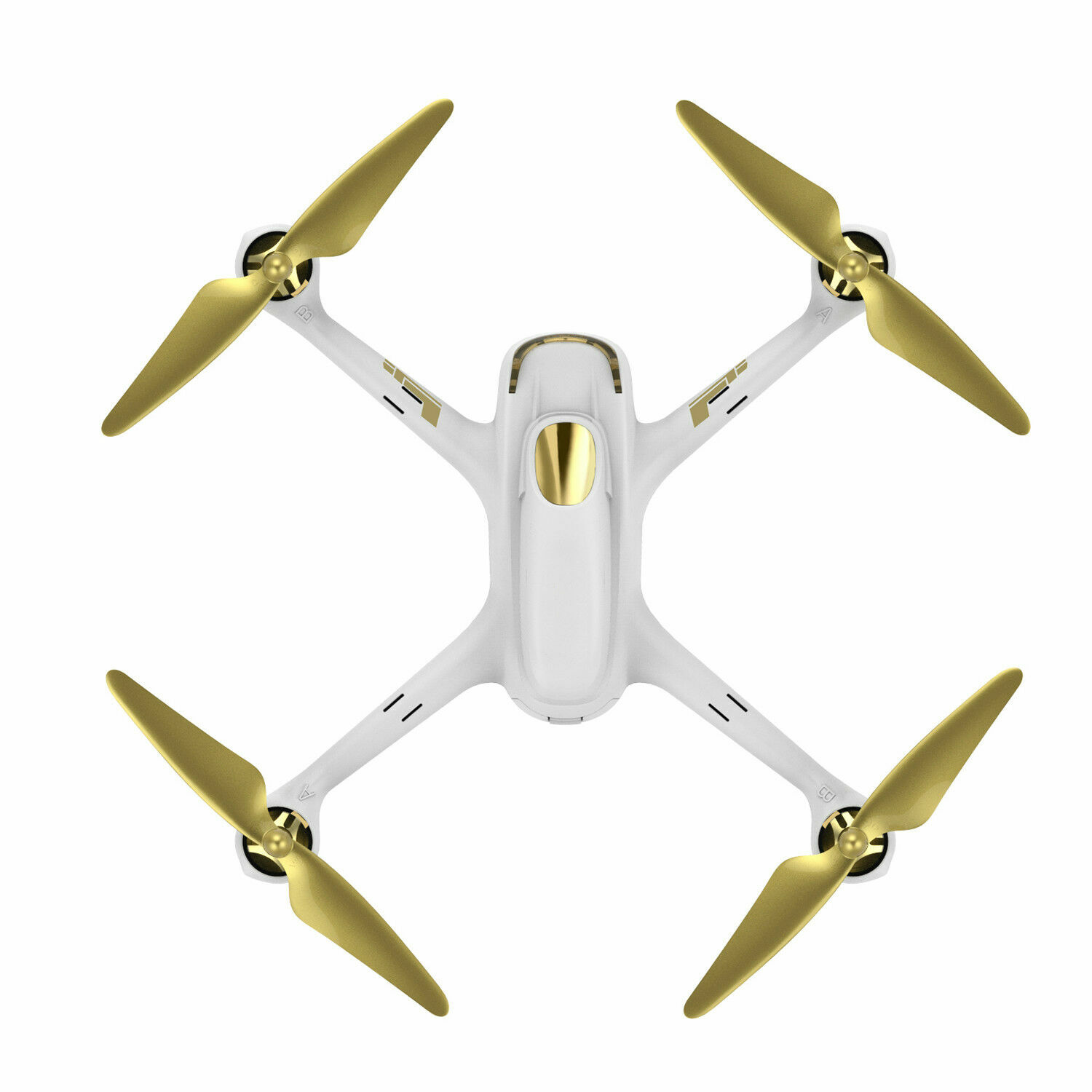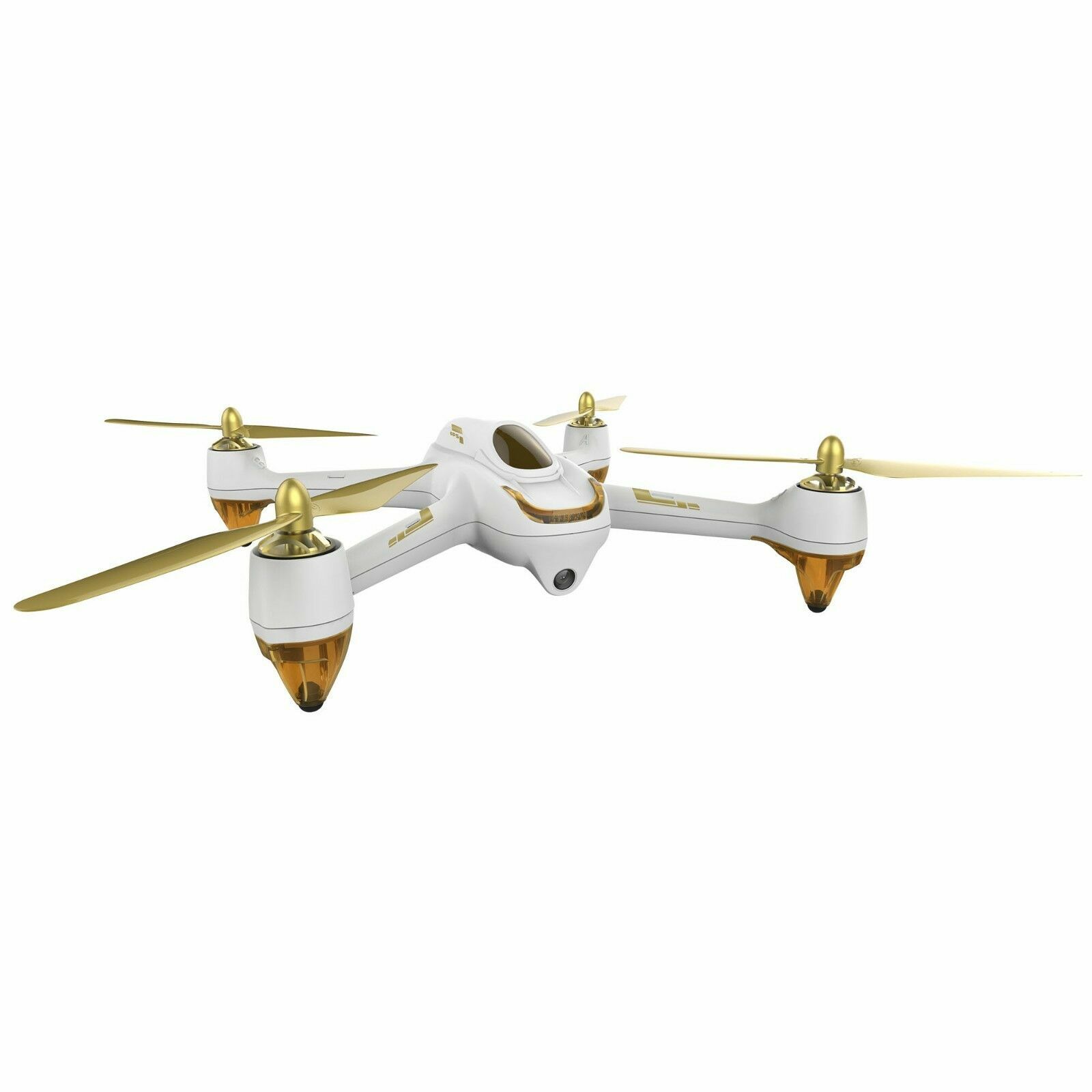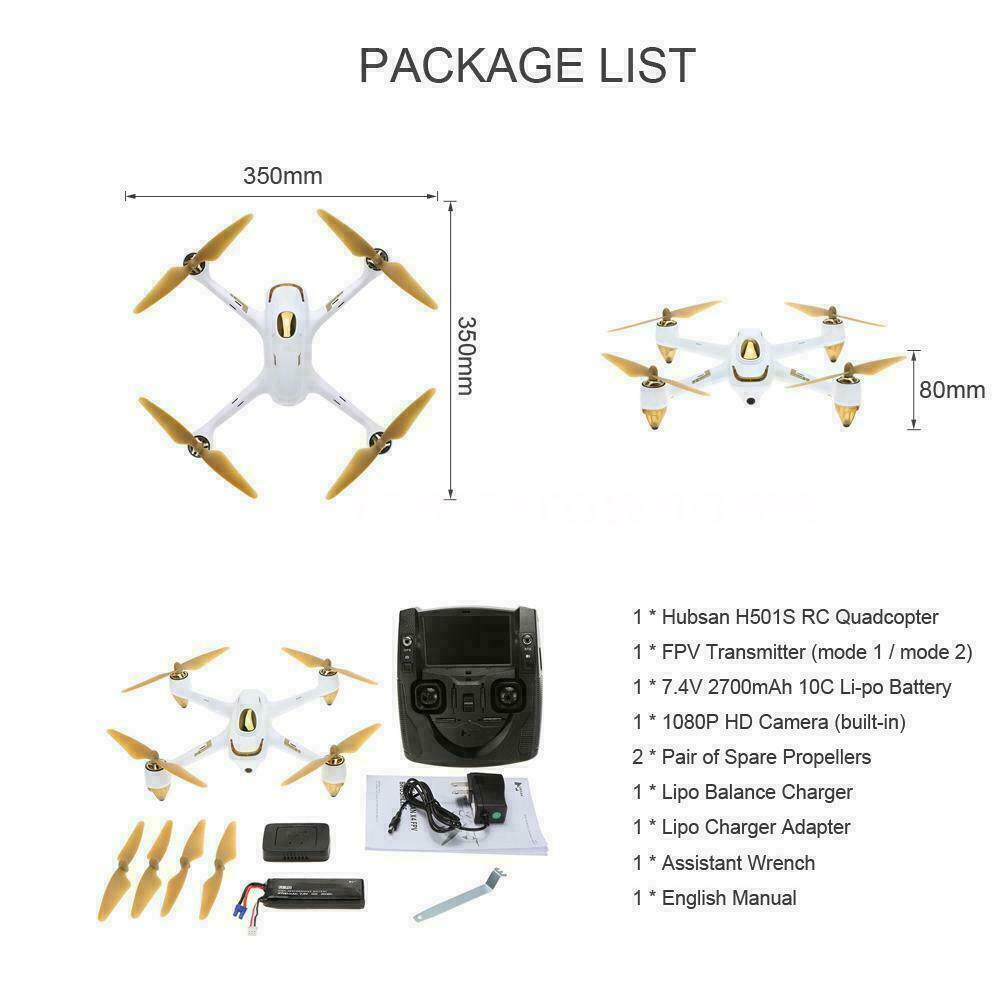 Item Specifics
| | |
| --- | --- |
| MPN | Does Not Apply |
| Brand | Hubsan |
| Fuel Type | Electric |
| Required Assembly | Ready to Go/RTR/RTF (All included) |
| Features | Follow Me/ RTH/ GPS, Altitude Hold/ Brushless |
| Type | Quadcopter |
| Model Grade | Hobby Grade |
| Color | WHITE |
| Maximum Control Range | 3280ft. (1000m) |
| Model | H501S-standard-2019 |
| Material | Plastic |
| Size Class | <200 |
| Country/Region of Manufacture | China |
| Control Channels | 10 Channels |
| FPV | 5.8G Real Time FPV |
| Controller mode | Mode 1 / Mode 2 |
| Remote control frequency | 5.8GHz |
| LCD | 4.3 Inch H901A Transmitter |
| Bundle Listing | No |