Description
Firehouse Technology

"ARC " RED/BLUE High Output Strobe
Multi Color Strobe alternates between White and Red (light bar effect)
Great for public safety aircraft (we also carry red/white) or to ID your aircraft when multiple are airborne

Our Industry Leading Drone Anti Collision Strobe with new XPE bulb. Alternates firing off both white, then red then green light, great for small frame aircraft! 250 MWH Rechrageable battery (largest in its class) with long run times with no loss of output like competitors. 700 Lumen output, > than 3 SM range. 3 Modes- Strobe, Flash and Fixed. Low profile, fits in many aftermarket mounts for all aircraft! Protect your investment, Follow FAA Rules and locate lost aircraft! Fits in custom mounts for arms and legs for larger aircraft. Trusted by the best for the best.

New model FAA 107.29 Compliant with Night Waiver on file! The ARC has four, 5 watt High Intensity XPE strobes in a compact module.. Features include Three Modes that are changed with tap of a button. Strobe, Flash and Fixed (Spotlight). NO WIRING NEEDED! Fully standalone with largest rechargeable lipo battery (240 Mhr) 6 plus hours run time in strobe mode with NO loss of lumen output . Compare to our competitor who tried to copy our design but has half to run time (smaller battery) and half the Lumen output, with a poor case design that turns on by accident every time you bump the top or push on the bottom! And don't get us started in the cheesy color lenses that reduce your output by 40 percent! We offer this model with different colors! While simple in design it, its keeps a low profile, lightweight, less drag and can be mounted on any drone! Plus it costs 40 percent less! Simple USB charging with charge indicator and battery management system so you cant overcharge. No impact on flight dynamics or flight times. Strobe will work on ANY Drone, or RC aircraft model. Strobe measures 1.0″ x .75″ and weighs less than 4 grams. Water resistant cover protects circuit and is water/dust resistant. Charge time 1- 1.5 hours. Run Time 5 plus hours in strobe mode. Can be quick charged in field with smartphone power bank. Comes complete nothing more to buy with 1- Red/Blue ARC Strobe, Special 3M mounting tape, USB charge cord. We also carry WHITE, Green and Blue Red, Red/White, Please see our other listings in our eBay store, or our webpage at Firehousetechnology. Like us on Facebook at Firehouse Technology for discounts and more info.

Ready to charge, mount and fly! Our lights our designed by us and sold by us! Simply the brightest standalone strobe lights in the market and at the same low price! Meets FAA 107 regulations for night flights! Night Waiver on File!. Compared to our competitors nothing else stacks up!

Our satisfied customers include NBC, CBS, Sinclair Communications (FOX) NYPD and many Fire and Police Department UAS units! Fast Shipping and Service. 90 Day Warranty on all lights we stand by what we sell! For Questions, Concerns or Warranty visit us at our Firehouse Technology site or Facebook Page (eBay does not allow us to post phone number which is ridiculous but we tried)
FAA 107.29 RULES


Directions for use, Mounting recommendations, FAA Regulations and Tips can be found below.
Why Do I need Strobes? Aside From Being Just Darn Cool FAA 107.29 Rules for Unmanned Aircraft require it! Helps pilot maintain orientation at night at keep line of sight. Helps you locate aircraft if its lost as it has its own power supply!

FAA RULE 107 for Night Flights : When sUAS operations are conducted during civil twilight, the sUAS must be
equipped with anti-collision strobe lights (this is NOT the lights already on your drone) that are capable of being visible 360 degrees for at
least 3 statute miles. However, the remote PIC may reduce the intensity of the
lighting if he or she has determined that it would be in the interest of
operational safety to do so. For example, the remote PIC may momentarily reduce
the lighting intensity if it impacts his or her night vision. Plus it also help you locate a lost drone as it has its own power source so wont stop flashing even if the aircraft power has been interrupted.! For those seeking night waivers under FAA 107 or wanting to fly in civil twilight , Strobe lighting is required and lighting is a "performance based standard:" When seeking waiver and filling out online request via the FAA you DO NOT need to comply with FAA Part 25 and document lumens ect, you will need to document how you will meet the requirement and this Cree strobe will meet that requirement placed on top of the aircraft and depending on the aircraft we suggest the bottom also for 360 degree coverage. The info for FAA 107 is at bottom of this add or check the FAA website.
DEMO of Strobe Light operations on Youtube just look under Firehouse Technology Arc Strobe
OR Visit our Facebook Page at Firehouse Technology
Mounting Guidelines

The strobes can be mounted with the included VHB 3M tape, make sure the mounting area is clean of oil and dust for full adhesion. You can also mount with Velcro (not included) if you wish to remove the strobe unit and place on other aircraft. Placement of the Strobe for full 360 degree coverage should be one strobe on top of body of aircraft and one on bottom of aircraft for the best coverage. This allows the pilot to see from the ground and maintain LOS and other aircraft to view from air. This ensures there are no blind spots caused by angle or position of aircraft. This placement also ensures compliance with FAA 107 and should be noted in your waiver application. We try to mount two white strobes on main body (one top and bottom) and use the colored strobes (red green or blue) on the arms. If your aircraft has bottom sensors steer clear of blocking those, and always power up aircraft on ground and test after mounting to ensure no issues. The unit does have a clear cover on it and this SHOULD NOT be removed. This provides dust and protection from water and mist at the same rating as your aircraft motors.
Directions For Use
Unit will arrive with little to no charge. Charge with included USB cord to any usb outlet. Use of wall adapter will shorten the charge time, but you can use any powered usb port. Charge will take anywhere from 30 minutes to an hour and a half. Light on unit will blink indicating charging. You cannot overcharge the unit, it has built in overcharge protection. Like any lipo battery do not leave unattended and place in safe area.

Color Selection For UAS Lighting
Because of human eye's limitations, Every color has different visibility ranges. If your going for the best visibility and distance then choose White lights for the best output. The Color ranges go in the following order for sight distance with white being the best followed by Red, then Green, and lastly Blue. Navigation under 107 use White for your Navigation lights, then Red, Green or Blue for marker lights.
FAA 107.29 Daytime Waiver Requirements for Exemption
The following is info the FAA needs to see addressed in your Waiver application. Be complete and note the use the the strobes and there output and placement meets the 3 SM requirement.
Performance-Based Standards


1. Applicant must provide a method for the remote pilot to maintain visual line of sight
during darkness.
2. Applicant must provide a method for the remote pilot to see and avoid other aircraft,
people on the ground, and ground-based structures and obstacles during darkness.
3. Applicant must provide a method by which the remote pilot will be able to continuously
know and determine the position, altitude, attitude, and movement of their small
unmanned aircraft (sUA).
4. Applicant must assure all required persons participating in the sUA operation have
knowledge to recognize and overcome visual illusions caused by darkness, and
understand physiological conditions which may degrade night vision.
5. Applicant must provide a method to increase visibility of the UAS to be seen 360 degrees at a
distance of 3 statute miles unless a system is in place that can avoid all non-participating
aircraft.
Thank you for your Business and Fly Safe

To power up unit there is a small black micro button opposite of the charge port. Depress this for 3 seconds to turn on, likewise to shut off. Do not look squarely at light or cover lights with fingers as it will cause temporary blindness if dark. Unit will power on to the "strobe mode", to change modes tap the micro button. It will switch between strobe, flash, and fixed (spotlight) modes. Use in flash and spotlight mode lessons the run time, with fixed/spot significantly being the shortest due to the high output of the lights. All lights have a 90 day warranty. Contact us if you have any questions or issues DO NOT go through ebay returns just a simple email (bottom of page use "ask seller a question") or phone call during business hours (440-606-6094) and we will be happy to assist.

>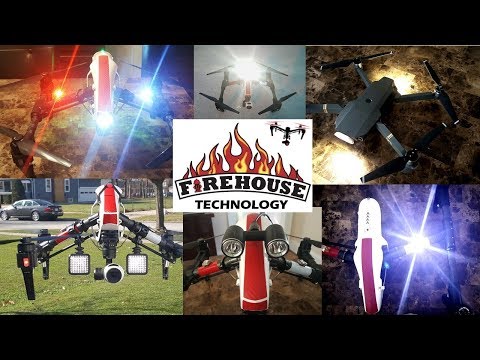 Firehouse Technology Drone UAS Strobe Lights Spot Lights – YouTube
Video will open in a new window
Using the eBay App? Paste link into a browser window:
[isdntekvideo]
.ytvideo * { box-sizing:border-box; } .ytvideo { margin:.5em auto 40px auto; max-width:480px; font-family:arial; text-align:center; position:relative; min-height:120px; background-color:#555; } .ytvideo p { position:absolute; margin:0; color:white; background-color:rgba(0,0,0,.5); } .ytvideo .yt_hd { font-size:16px; width:100%; height:28px; line-height:28px; text-align:left; top:0; left:0; padding-left:10px; overflow:hidden; } .ytvideo .yt_ft { font-size:12px; width:100%; bottom:0; left:0; } .ytvideo img { display:block; max-width:100%; border:0; } .ytvideo a:after { content:"A025BA"; position:absolute; width:60px; height:50px; left:0; top:0; right:0; bottom:0; margin:auto; border:0; border-radius:10px; color:white; background:rgba(0,0,0,.6); font-size:24px; line-height:50px; cursor:pointer; } .ytvideo a:hover:after { background:#CC181E; } .ytvideo .yt_inp { position:absolute; top:100%; left:0; width:100%; text-align:center; padding:.5em .2em; xfont-size:18px; border:0; color:white; background: rgba(0,0,0,.7); } @media(max-device-width:960px){ .ytvideo { margin-bottom:60px; } .ytvideo .yt_inp { padding:1em .2em; } }